A drive across the state or country is a wonderful way to relax, explore new places, and spend time with loved ones. Beforehand, you may want to pack essential items and take care of your car. When you plan ahead for a road trip, you can prevent potential issues and make the experience as fun and stress-free as possible. Read on to review 10 steps for preparing your car for a family road trip.
Collect Your Documents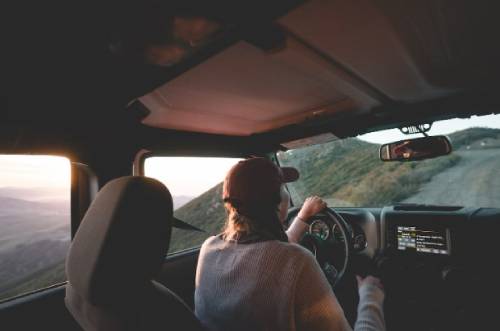 Image by Will Truettner is licensed with Unsplash License
License and Registration
If the police pull you over during your trip, they'll require you to present your driver's license and registration. Your license proves that you have the right credentials to drive legally. Your car registration shows your vehicle is safe to drive and confirms you've paid taxes and fees to your state's Department of Motor Vehicles. Make sure your license isn't expired, and your registration is up to date.
Owner's Manual
The owner's manual for your car provides operational and maintenance instructions. It can help you solve minor or major issues on your road trip. For example, if you're not sure how to connect your smartphone to the sound system, your owner's manual can tell you. The guide can also tell you how to fill up fluids or jump-start your car. You can usually find and download a manual online.
Proof of Insurance
Most states require drivers to have auto insurance. This ensures you can pay for damages or injuries in the event of an accident. By carrying proof of insurance with you while driving, you can show the police you comply with your state's laws and regulations. You can also reference the information easily and give it to others if you get into an accident.
Roadside Assistance Information
Prepare your roadside assistance information so you can get help in the event of car trouble. Know which number to call if you need someone to tow your car or assist with other issues. This can come in handy if you lock your keys in your car, get a flat tire, break down, or require a jump start.
Bring Emergency Items
Pack the following emergency items on your trip to keep your passengers safe and maintain the functionality of your car:
First aid kit: First aid kits include emergency blankets, medical supplies, and more.
Roadside emergency kit: These kits usually include jumper cables, flashlights, and other tools.
Jerry can of gasoline: Filling up a jerry can with gasoline ensures you have fuel in an emergency situation.
Assess Your Tires
Tending to your tires before a road trip can reduce the risk of a blowout or flat tire. Inspect your tires to confirm there are no rips or nails in them. You can also check the following:
Tire pressure: Maintaining good tire pressure improves performance and handling and enhances your fuel economy.
Tire tread: Your tire tread shows how worn your tires are. Replacing your tires is vital to staying safe, especially in slippery road conditions.
Spare tire: Keeping a spare tire means you can replace your tire right away if you get a flat on the road.
Check Your Lights
It's usually illegal to drive with broken taillights, brake lights, or headlights. These lights allow other drivers to see your vehicle. In addition, brake lights enable you to warn other drivers that you're slowing down or stopping. Blinkers or indicators tell other drivers where you're going next. Checking to make sure your lights work is critical for supporting other drivers and staying safe on the road. You can also check your hazard lights, reverse lights, fog lights, full-beam headlights, and cabin lights. It may be beneficial to bring spare bulbs.
Test Your Windshield Wipers
During rain and snow, your windshield wipers remove water and give you a full view of the road in front of you. Determine if your windshield wipers work correctly before going on a road trip. It may be necessary to replace them if they're old and worn.
Test Your Brakes
Clearly, your brakes are one of the most important components of your car. When you use your brakes, listen for squeaking or scraping noises, feel for sticky braking, and pay attention to any strange smells like burning. If you notice any of these, there may be issues with your braking system, so bring your car to an auto shop right away to get your brakes inspected and your brake pads replaced.
Top Off Your Fluids
There are various fluids that allow your vehicle to function properly. Before a trip, top off or replace the following vehicle fluids:
Engine oil.
Radiator coolant.
Windshield washer fluid.
Brake fluid.
Transmission fluid.
Power steering fluid.
Get Your Car Serviced
A long road trip can test the performance of your vehicle. That's why it's beneficial to make sure your car is in tip-top shape before embarking on your adventure. Schedule an appointment at least two weeks before your trip and bring your car to a trusted dealership auto shop to get it inspected by a professional. By doing this, you can prevent larger issues in the future and save money on repairs.
Test Your Air Conditioning (AC) System
In cold or hot weather, your AC system ensures you and your passengers are comfortable in the car's cabin. In addition, proper airflow throughout your car makes it easier to breathe. Turn on the heating and cooling to confirm the system works.
Clean Your Car
Remove any trash or unused items from your car to make space for all your road trip luggage. It's also a good idea to vacuum and clean the interior surfaces of your car to avoid undesirable smells. Washing the outside of your car removes debris and can improve the aerodynamics and fuel efficiency of your car.
As you can see, there are many benefits to getting your car ready for a family road trip. Along with avoiding car trouble, you can also ensure your driving experience is efficient and enjoyable. If you have questions about how to service your vehicle before a journey, contact us here at Apple - AutoOne. One of our trained professionals will be more than happy to assist you.