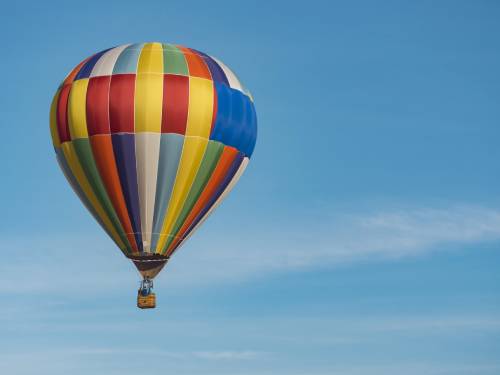 Image by Aaron Burden is licensed with Unsplash License

If you live in Lancaster, Pennsylvania, or you're planning an upcoming trip, there are several fun activities to check out if you visit in the Fall. Whether you're looking for a family-friendly activity or a fun outing for you and your spouse, there's plenty to do in this city. Here's a list of our suggestions for things to do in the Fall in Lancaster.
Take a Hot Air Balloon Tour
When you're in Lancaster, sign up for a hot air balloon tour with Lancaster Balloon Rides to take in this area's beautiful Fall foliage. Enjoy the season's beauty from hundreds of feet in the air and enjoy a picnic lunch with your loved ones.
While this is a fun activity if you're visiting on vacation, a hot air balloon tour is also a great option for Lancaster locals who want to see the architecture of their beautiful city from new heights. Make sure to pack a camera so you can save these beautiful memories and remember this exciting experience for years to come.
Find Your Way Around a Corn Maze
Are you looking for an adventure? Stop by Cherry Crest Adventure Farm to navigate your way around a corn maze and enjoy a variety of fun Fall activities, including tractor pulling, pumpkin picking, and wagon riding. You can explore the five-acre corn maze by day, or for an added thrill, try to navigate by flashlight after sundown. If you're hungry after taking on the maze, try one of the farm's apple cider doughnuts.
Learn More About Amish Traditions
If you're in Lancaster in the Fall, consider learning more about Amish traditions and stopping by for a harvest day at The Amish Experience. Here you and your friends and family can learn how Amish people tend to their farms and handle other daily activities in their calm and peaceful environment. Explore how the Amish have always lived and take your loved ones along for enriching experiences, such as a relaxing buggy tour.
Go Apple Picking at Cherry Hill Orchards and Farm Market
Bring your loved ones to Lancaster's Cherry Hill Orchards and Farm Market for apple and pumpkin picking. Here you can also go for a hayride, shop for seasonal decorations, and enjoy local cider. This is the largest pick-your-own-fruit orchard in the county, so it's a must-visit whether you're on vacation or a local. You can also stop by their bakery section to check out their homemade goods, including cherry oatmeal cookies, maple syrup, honey, and doughnuts. If you're in Lancaster for a trip, you can also pick up a gift basket here to bring home with you.
Plan a Covered Bridge Tour
If you and your friends and family want to learn more about the history of Lancaster while enjoying the beautiful Fall foliage, consider planning a covered bridge tour. The area is known for its rustic-covered bridges, and you can pack a lunch and drive through some of the Pennsylvania countryside's most beautiful areas. You can explore historic architecture and learn more about the city while enjoying the Autumn weather and changing leaves.
Sample Produce at a Local Farmer's Market
The farmer's markets in Lancaster County, like the Bird-in-Hand Farmer's Market, offer visitors the freshest local produce, so make sure to check them out when you're in the area. Since the food depends on the season, it's a great idea to stop by in the Fall for the Autumn harvest. You'll find a variety of root vegetables, flavorful fruits, and hearty greens, as well as several local desserts, cheeses, and handmade gift items.
Rent a Cabin and Explore the Area by Zipline
If you and your loved ones enjoy exploring the outdoors, check out the Refreshing Mountain Retreat and Adventure Center, where you can rent a cabin and explore the area. The facility's five-star ziplines allow you to check out the Fall foliage from above and take a tour through the trees. It's also located near the Pennsylvania turnpike, making other local destinations only a quick drive away.
If you don't have time to rent a cabin, you can also plan a day trip and take part in the adventure center's outdoor activities. Their wildlife center includes reptiles and birds of prey, making it a great place to visit if you and your friends and family are animal lovers.
Check Out a Community Fair
Check out one of the area's many local community fairs, which take place all over Lancaster County. Depending on the fair you visit, you and your loved ones can enjoy carnival rides, parades, and crafts from local artists. Some fairs in Lancaster even have farm animals, making them especially fun for your little ones. If you're a music-lover, you can listen to live bands at the Ephrata Fair, and make sure to check out the West Lampeter Fair to enjoy a variety of rodeo-style activities.
Step into the Past at the Renaissance Faire
If you and your loved ones are looking for a fun and unique experience, make sure to stop by the PA Renaissance Faire. Check the schedule ahead of time since the faire only takes place on certain days throughout the season and ends in October. Explore the magic and mystery of this exciting event where you can dress up like a Renaissance lord or lady. With a new theme every weekend and a dog-friendly policy, there's something for everyone, making this a great choice for families and visitors of all ages.
There you have it, our list of recommendations for fun things to do in the Fall in Lancaster. Whether you're interested in exploring the area, learning more about its history, or taking in the beauty of the foliage, there's something for everyone. Have we included your favorite seasonal activities? Contact us to let us know if we missed anything, and we'll be happy to update our list so more locals and visitors can enjoy all that this area has to offer.