Buying a new-to-you car or truck is an exciting decision. Often serving as a milestone in life, purchasing a car or truck is frequently the first large investment an individual makes. You can make this important decision more enjoyable by understanding the process and information you need to have ready for your purchase. Read on for information about the car-buying process and what might be involved.
Establish a Realistic Budget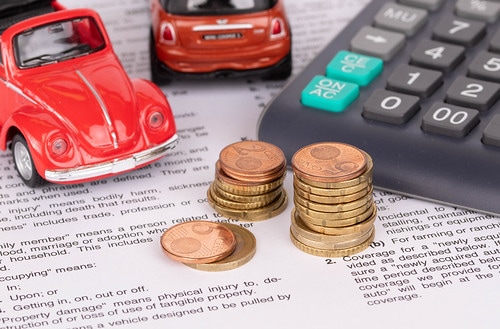 Image via Flickr by wuestenigel
Establishing a realistic budget depends on what you can afford each month while maintaining your quality of life. Look at your monthly expenses. Consider things like your rent or mortgage payment and recurring expenses like utility bills, grocery purchases, and health insurance payments. What you have left over is the amount you can feasibly contribute to the ownership of a new-to-you vehicle. While the monthly payment needs to be affordable and fit within your budget, look beyond just that and consider other investments are associated with owning a vehicle.
Other responsibilities of owning a vehicle include the cost of interest on your new car loan if you're financing, the price of insurance to protect your vehicle from collisions and theft, parking charges if you use a parking garage, fuel, and maintenance costs.
You'll need to find an equilibrium between the price of a new-to-you-ride and the maintenance on it. The older the vehicle you purchase, the lower the purchasing price will be. However, you will likely have to invest more money on repairs, parts, and maintenance sooner than you would a newer vehicle. Try using our payment calculator to help you establish your budget.
Determine Your Transportation Needs
There's a lot of research involved in purchasing a vehicle. You'll want to consider what you'll be using your car, truck, or SUV for, and how often you'll be using it. For example, if you'll be using your new purchase to get you to and from work, pick up the kids, grab groceries, and run other errands, you may want to opt for a dependable vehicle with a solid engine that's good on gas.
In comparison, if your vehicle is going to be a weekend recreational ride because you don't have a daily commute, you could opt for something that handles well on the open road for long distance travel. Consider the cost of fuel, parking, insurance coverage, and routine maintenance, and buy what you need.
Although a big SUV might be good for road trips and camping expeditions, if you only go once a year, it may not be worth the investment. A car suited for city driving and getting you to work safely could be a better investment. Then you could consider renting a vehicle when you want to go on a road trip or camping trip.
Know What You Want
Once you've established your needs, then you can evaluate your wants. For a first-time purchase, you may not land on your dream vehicle. Rather, you could look for something that's economical and dependable enough to work for you for a few years while you pay off the cost of the loan if you are financing. It's better to get a vehicle that isn't your favorite color but performs consistently rather than one that looks good but is always breaking down on you.
Evaluate what things you want in a daily vehicle, and look for those when searching. Share them with your sales specialist, and find a common ground between what you're able to afford and what you want. This can help you find a vehicle that makes you happy and meets your needs at the same time.
For example, you might choose to spend an extra $35 a month on a loan payment and skip that coffee run a few times a month, if it means you're satisfied with your vehicle. If you're not sure which vehicle to choose, check out "The Best Used Car For Me" to help guide you. Then you can shop our inventory and explore financing options.
Explore Your Options
There's an amazing amount of information on new and used cars on the internet. You can look up the options that fit your needs and see what others have said about the make and model you're considering. With a long-term investment, you want to know what you will be responsible for. Some vehicles have parts that are easy to find, while others take time to locate.
Certain vehicles are prone to engine trouble, while others can run for years without a hiccup. Consider the information you discover, but also trust your intuition. You can also consider asking a friend or relative about a car you wish to purchase if they own a similar make and model. Their first-hand experience and car ownership experience can give you invaluable perspective.
Pre-qualify for a Loan
When you pre-qualify for a loan online, the process of purchasing a vehicle is streamlined. You go into the dealership knowing what you can afford, which can help you make a better financial decision. The sales specialist can easily guide you to options within your budget and needs, making shopping for your first used car or truck easy.
If you plan to trade in a vehicle, you can easily value your trade online. You'll have a lower monthly payment with a trade-in, or if you have a down payment. The larger the down payment you can afford, the smaller your monthly payments and the less you'll need to finance.
Go for a Test Drive
You can access our user-friendly used car inventory online to see our inventory and help you get started. Once you've determined the vehicle you wish to purchase, take it on a test drive. Get in touch with our friendly team to set up an appointment, or visit us to see your options in person.
A test drive will tell you a lot about the vehicle you plan to purchase, like how you feel behind the wheel, what seat heights you like, and how easily you handle the vehicle. You'll want a vehicle you feel confident driving daily. Take at least half an hour, longer if you can, driving the vehicle in an area that you know well.
We look forward to helping you. Contact us with questions or when you're ready to come in for a test drive.