There's nothing quite as satisfying as eating barbecue food, whether it's meat, chicken, seafood, or vegetables. People love the smoky flavor, the various barbecue sauces slathered on the food, and the exciting sides like coleslaw or baked beans that usually come with your barbecue plate. If you're craving BBQ in Lancaster, you're in luck. You'll want to use plenty of napkins to sop up the barbecue sauce at any of the best barbecue restaurants in Lancaster, Pennsylvania.
The BBQ Barn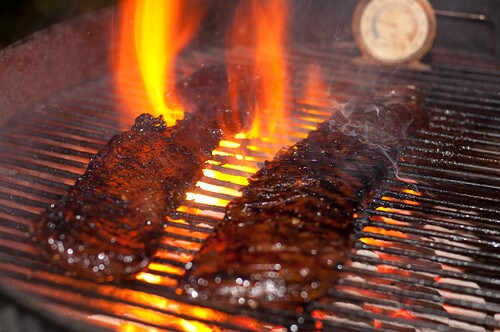 grilled skirt steak by Brian Child is licensed by CC BY-SA 2.0
The BBQ Barn is located at the Amish Farm and House, and the chefs serve up barbecued ribs, pork, and chicken for guests staying at the house, those visiting the farm, or anyone who wants Amish-style barbecue. Every order of barbecue comes with a side of coleslaw and a whoopie pie, adding an authentic Pennsylvania Dutch accent to the meal.
You can order a barbecue dinner plate that comes with potatoes, coleslaw, roll and butter, a whoopie pie, and a beverage, or you can go for a sandwich, burger, or hot dog. Don't forget to complete your meal with a peach or strawberry milkshake.
Location: 2395 Covered Bridge Drive in Lancaster
Contact: 717-875-2426
After an invigorating day exploring popular hiking trails in Lancaster County, refuel with a hearty barbecue meal at the BBQ Barn.
Belly's BBQ & Burritos
One secret of Belly's BBQ & Burrito's savory meats is their very own Belly Rub spice mix. This mix goes on all the smoked meats, including their popular chicken wings, and with each order, you get your pick of homemade barbecue sauce like their zesty peach habanero.
Tasty sandwiches include Southern-style slow-smoked pulled pork, shredded chicken, or tender brisket. If you want a full meal, order one of the plates that come with creative sides like cornbread or Homer Hollow BBQ beans. You can also get the barbecue meat inside a burrito, as a burrito bowl, or as a chimichanga.
Location: 5503 Main St. in East Petersburg
Contact: 717-621-2940
El Toro Barbacoa
Enjoy mouthwatering slow-smoked barbecue and modern Mexican food when you dine at El Toro Barbacoa. If you're wondering what barbacoa is, it's a traditional style of slow-cooking meat until it's tender. Barbacoa originated in Central America and the Caribbean islands.
When you dine at El Toro Barbacoa, you'll enjoy items like nachos, tacos, full dinner plates, or burritos with smoked pulled pork or brisket. Each dinner plate comes with sides like burnt end beans, broccoli salad, or french fries. This family-friendly restaurant has a kids menu portioned just right for their small size. The chefs at El Toro Barbacoa also offer vegan and vegetarian options.
Location: 14 Blue Rock Rd. in Millersville
Contact: 717-584-3116
Harvey's Bar-B-Q
If you enjoy tangy Carolina-style barbecue sauce, you'll enjoy eating at Harvey's Bar-B-Q. Considered one of America's original styles of barbecuing, Carolina sauce uses special zesty spices blended with vinegar that's generously mopped onto the meat. The pitmasters at Harvey's Bar-B-Q use this unique style of barbecuing on everything from ribs, brisket, chicken wings, pork, and sausages.
For a light meal, choose a sandwich made on a fresh roll filled with hickory and cherry-smoked pulled pork beef brisket or even pulled chicken. You'll have lots of choices for dinner plates, with sides like red skin potato salad, handmade onion rings, or refreshing coleslaw. If you want to bring food home, buy bulk meats and sides, and don't forget to stock up on Harvey's Bar-B-Q's famous sauce.
Location: 304 E. Main St. in Mount Joy
Contact: 717-653-4224
Smokehouse BBQ and Brews
When you stop by Smokehouse BBQ and Brews, you'll experience more than just slow-cooked barbecue food. You can find this restaurant at the 10-acre Plain & Fancy Farm with its Amish-style buggy rides, AmishView Inn and Suites, and farmland tours featuring the gardens and farm animals.
After working up an appetite exploring the various Plain & Fancy Farm activities, stop by the Smokehouse BBQ and Brews for slow-cooked barbecues and refreshing beverages. Start your meal with an appetizer of sweet corn fritters and move on to your sandwich or entree. You can build your own platter with meats and sides like smoked baked beans, pickled vegetables, or creamy mac 'n' cheese. Kids get their own menu with items like mini sliders or chicken tenders.
Location: 3121 Old Philadelphia Pike in Bird-in-Hand
Contact: 717-768-4400
Bob's Barbecue
When you want catered barbecue for a party or special event, Bob's Barbecue has you covered. Bring the whole family and friends to this restaurant to enjoy the variety of party packs that have barbecued meats, sides, rolls, and barbecue sauce tailored to the size of the group. Whether you have a barbecued meat platter or sandwich, you'll want to enhance your meal with sides like fried okra, green beans with bacon, or sweet potato fries. Watch for their daily lunch specials that include barbecued meat, sides, and a drink.
Location: 2481 Lincoln Highway E. in Lancaster
Contact: 717-435-8549
DK Smokin' BBQ
Enjoy competition-style barbecue meats smoked over hickory, apple, and cherry wood when you eat at DK Smokin' BBQ. Enjoy a smoked pulled-pork, smoky chicken, or smoked sausage sandwich with sides for a light lunch. For dinner, savor St. Louis-style pork ribs or beef short ribs slathered in spicy barbecue sauce.
You can also order platters with brisket, chicken, or pulled pork. Creative side dishes include tri-color coleslaw, breaded mushrooms, and smoked mac 'n' cheese. Kids can enjoy smaller portions of baby back ribs, pork sliders, or a smoky hot dog with sides and a whoopie pie. Please note that the chefs at DK Smokin' BBQ use peanut oil for their fried foods, so let them know if you have peanut allergies.
Location: 160 A Harristown Road in Paradise
Contact: 717-466-4961
Isn't your mouth just watering after reading about these outstanding barbecue joints around Lancaster? Which one is your favorite? Do you like sweet or tangy barbecue sauce? If you have a recommendation for another barbecue restaurant that our team at AutoOne Lancaster missed, let us know, and we'll try them for ourselves.