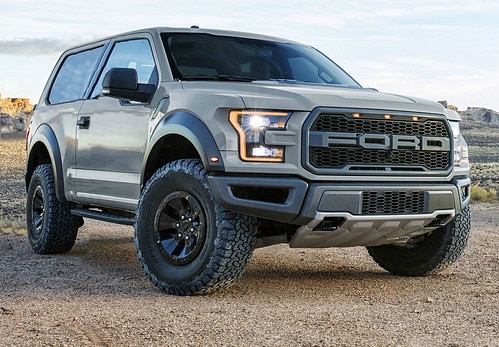 Ford Bronco concept by dave_7 is licensed with CC BY 2.0

So, you want to buy a used car around Lancaster, PA, but you're not sure what to add to your checklist to ensure that it meets your specifications? Perhaps you already know what brand, color options, and model year you prefer. After researching the choices or options available and getting insights on the specs, you can then decide what features you'll want to prioritize in your search.
Once you decide on the specific vehicle you want, you need to inspect certain details before purchasing it, such as a background check, mileage, and condition. These inspections may help you detect any underlying issues on the vehicle. Below, our team compiled a list of ten tips to help you find the right car for you when you head to a dealership to select a used car.
Vehicle Identification Number
While inspecting a used car you consider buying, be sure to ask for its vehicle identification number (VIN). The car's VIN is a unique code that displays the car's information through an online VIN decoder chart. This quick check discloses whether the VIN information you have found matches the car title and the records available. The VIN can also indicate if the car's model was ever recalled. A VIN check will save you time and money, especially in cases where there was a safety recall.
Car History Report
A car history report assists you in knowing details about the car and the past ownership. The car report may consist of any previous accidents it might have had, service points, and overall ownership history in cases where the current owner also bought it from someone else. You can get the vehicle history report online for a fee by keying in the VIN or the license plate number. A dealership may also provide you with a full car history report to simplify the car buying process.
Mileage
Car mileage can help you assess the vehicle's longevity. Vehicles with low mileage are ideal compared to high-mileage cars, since they tend to have minimal wear and tear. However, this can also be a concern, because cars that were rarely used may have dry and brittle rubber parts that can result in additional costs.
Paint Chips or Rust
You need to carefully inspect the car's body for any paint damage, inconsistency, or rust. If you note any paint chips or inconsistencies, confirm that they aren't cover-ups for any rust. A fresh coat of paint at a dealership service center can fix an ordinary paint chip at a reasonable price, giving the car a fresh look. However, if it's a rust patch, you may want to reconsider the car purchase, as the parts may be damaged, resulting in additional repair costs.
Tire Condition
Ensure that you also inspect the condition of the car's tires for any uneven tread wear. While a new set of tires can fix worn tire treads, uneven wear can indicate an issue with the tire alignment. Tires that are misaligned can indicate a problem with the car's steering, suspension, or body frame. In cases of tire misalignment, consider waiting for the technician's final report on the cause of this issue before making a purchase.
Engine Condition
The engine is a vital car component that needs to be in excellent condition. To assess the engine's condition, check out any leaks or loose wires. Inspect the color of any fluid leaks to pinpoint which part of the engine is causing the leak. For example, black fluid may indicate a leaking oil, while reddish fluid may be a leak in the transmission or power-steering fluid.
Electronic Systems
Electronic systems might include a GPS, driver assist systems, air conditioning, interior heating, radio, or an information system. Confirm whether they're functioning appropriately and note any malfunctions. Also, if you're purchasing an electric vehicle (EV), pay special attention to the electronic systems and verify how efficiently they operate.
Upholstery
You can learn a lot about a car's age and condition from its upholstery. When inspecting the car, pay close attention to any tears, stains, or cracks on the seats. Evaluate how much repair may be necessary on the upholstery, then confirm how much it might cost before making a purchase. Reupholstering can be pretty expensive.
Test Drive
Going on a test drive is a great way to know how a vehicle performs on the road. Depending on the type of car you've chosen, organize a route that fits its full functionality. For example, if the car has a spectacular off-road capacity, take it on an appropriate off-road drive, if possible. Try to take the test drive along a Lancaster highway, maneuver turns, test the brakes, and even see how it parallel parks. A thorough test drive will give you insights into the car's performance and safety.
Technician Inspection
Once you've completed the car inspection, get a professional to conduct an inspection as well. A technician will conduct a thorough check and determine if any concerns may become a significant problem after the purchase. Evaluate the final report the technician gives you, plus their advice on whether to buy the vehicle. Although you'll need to pay for this service, having a professional inspect the vehicle can save you from purchasing a faulty car.
Following this checklist will help you avoid making the mistake of buying a car with hidden damages. Therefore, it's important to always consider a technician's opinion before making a purchase. We understand our customers' quest to buy fully functional used cars. We offer a stress-free buying experience by providing high-quality and competitively priced used cars.
Our inventory has a wide array of used cars, including plenty of options within a price range under $15K. Browse our inventory and check diverse car models that suit your preferences. We're here to make the car buying process easier for you, and we want you to drive home in your dream ride without compromising quality. Visit us at our dealership or contact us for any questions about your purchase.