The first thing you notice when you walk into a cafe or coffee shop, is the intoxicating aroma of freshly brewed coffee delighting your senses. Whether you like to drink coffee black, served as an expresso drink, or iced on a summer day, you'll find just what you're looking for at some of the best coffee shops in Lancaster, Pennsylvania.
Square One Coffee Roasters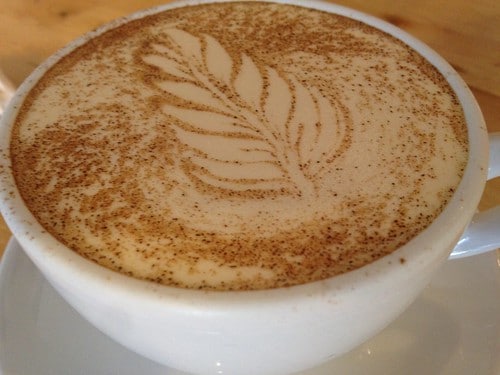 latte art by Phil Denton is licensed with CC BY-SA 2.0
The team at Square One Coffe Roasters have a passion for roasting and brewing high-quality coffee that any coffee aficionado will appreciate. The folks who work at Square One Coffe Roasters believe in paying top dollar for premium coffee beans grown sustainably while supporting farmers and growers who pay workers a fair living wage. This passion for quality comes through in every cup of coffee you drink when visiting their cafe.
Before ordering your beverage, speak with the barista about the coffee beans they carry and the flavor profiles you'd like. They can then help pair the perfect roasted bean to your palate. The barista can also brew the perfect cup of tea when you're looking for a non-coffee drink. To go with your pick-me-up beverage, dip a gluten-free cookie in the brew or fuel up with a classic egg sandwich to start your morning.
Location: 145 N. Duke St.
Contact: 717-392-3354
Copper Cup Coffee
Visitors and locals appreciate the variety of coffee drinks prepared at Copper Cup Coffee. The team at Copper Cup Coffee uses Passenger Coffee beans to create popular drinks like cappuccino, plain espresso, macchiato, and lattes. The baristas excel at making tasty specialty coffee drinks like the honey lavender latte made with lavender syrup and honey or the copper latte crafted with honey, cinnamon, espresso, and milk.
Tea lovers will enjoy the extensive menu of loose-leaf tea brewed plain or made into creations such as the fogged tea with steamed milk and vanilla bean syrup. On warm days, indulge in milkshakes, watermelon mint lemonade, or flavored sparkling water to go with a sweet baked treat, salad, or sandwich.
Location: 922 Columbia Ave.
Contact: 717-759-5707
New Holland Coffee Co.
You and your friends will not only enjoy an outstanding cup of coffee at New Holland Coffee Co. but, you'll also feel the warmth of the charming atmosphere at either of their two locations, one in Lancaster and one in New Holland. You'll notice the exceptional flavor of the coffee brewed in-house as you sip a plain cup of java or savor a specialty espresso drink like the caramel macchiato. For any of the espresso drinks, you can add flavored syrups like hazelnut or chocolate and choose milk substitutes like soy, almond, oat, or coconut.
If you have a bit of a sweet tooth, sip your coffee while nibbling on a muffin, Danish, or scone. When you want a heartier breakfast option, order a full breakfast, a piece of quiche, or fancy toast like one made with caramelized mushrooms and onions, drizzled with a balsamic glaze, and served with avocado, feta cheese, and eggs.
Location: 29 East King St. in Lancaster
Contact: 717-459-9127
Location: 832 W. Main St. in New Holland
Contact: 717-355-0565
Cafe One Eight
You'll want to spend hours at Cafe One Eight with its comfortable and inviting vibe and atmosphere. As you relax, sip coffee, and eat a meal at Cafe One Eight, know that the chefs and baristas prepare food and beverages with the utmost care and commitment to quality. The purveyors of Cafe One Eight work with other local businesses to promote a healthy community. You'll find your favorite coffee drinks made with coffee beans from Square One Coffee Roasters and cow's milk from Pineview Dairy.
If you're looking for a cup of tea, this cafe carries a variety of high-quality loose-leaf teas. Power up your day with breakfast options like the vegan bowl with roasted sweet potatoes, quinoa, black beans, and assorted vegetables. Cafe One Eight's burritos and egg sandwiches are perfect to eat on the go or for later in the day. For lighter fare, try oatmeal, vegan granola with a milk substitute, or cinnamon swirl French toast. Dishes that incorporate fruits and vegetables come from local farms, and the bread used for sandwiches come from bakeries nearby.
Location: 18 W. Orange St.
Contact: 717-509-4500
Speckled Hen
If you find yourself in historic Strasburg, stop by the Speckled Hen for coffee, breakfast, lunch, or dinner. With deep roots in the Lancaster County community, the owners of the Speckled Hen wish to share their love of farm-fresh eggs, dairy, meats, and produce with all who visit this charming cafe. Start your experience at the Speckled Hen with coffee from the local Passenger Coffee Roaster and savor your cup of brewed, pour-over, or espresso drink.
You can mix up your coffee beverage with add-on flavors like vanilla, lavender, or caramel. The milk used in the drinks, including milk in hot chocolate and blended lattes or added to chai lattes, comes from the local Maplehofe Dairy. Know that you're supporting the local Runnymede Farm when you eat their breakfast dishes that use fresh eggs laid by free-range chickens. Enjoy omelets filled with vegetables from nearby farms, meats from local ranches, and bread from Michael's Homestyle Breads.
Stay for lunch and have an iced coffee to go with your strawberry feta cheese salad topped with Meck's hydroponics greens, a triple grilled cheese sandwich, or teriyaki beef using pasture-raised beef grown at Verdant View Farm.
Location: 141 E. Main St. in Strasburg
Contact: 717-288-3139
After a day exploring great places in Lancaster, you'll appreciate having a coffee drink and something to eat at any of the coffee shops and cafes mentioned above.
Our team at AutoOne Lancaster hopes you enjoy your favorite coffee drink, tea beverage, and snacks at these coffee shops in the Lancaster area. Which shop is your favorite and why? What's your go-to pick-me-up beverage that helps energize you? Do you have a recommendation for a coffee shop that we missed? If so, let us know. We love trying coffee shops in our community.