5 Great Places to Visit in Lancaster, PA - Our Local Guide
Lancaster welcomes visitors and residents alike with its picturesque rolling countryside, colorful history, noteworthy art scene, and Pennsylvania Dutch hospitality. It is a town that is not only beautiful but also highly entertaining. Whether you're looking to spend time in nature experiencing the great outdoors or relax with your family, we have great places for you to visit.
Experience Amish Life at Plain & Fancy Farm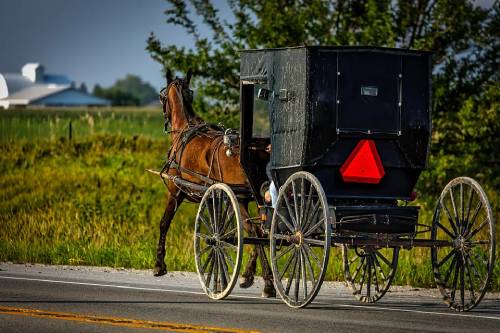 Image via Pixabay by 12019 / 10259 images (License)
Lancaster is home to the oldest Amish settlement in the United States. You can experience this way of life by visiting Plain & Fancy Farm in Bird-in-Hand. This unique location will give you a glimpse into the daily life of the thousands of people who live the traditional Amish lifestyle.
At Plain & Fancy Farm, the horse and buggy is a main form of transportation, windmills provide clean and reliable energy, and minimalism is a priority. Join one of the buggy rides for a behind-the-scenes tour of the 10-acre farm and its schools, shops, and businesses. Or go for a walk through the gardens and see how the Amish grow ingredients for their meals.
Take a step back in time with your family by spending a day exploring the farm and trying your hand at the various activities. You can even book a couple of nights in the farm's hotel, AmishView Inn & Suites, to turn your visit into a weekend experience.
Spend Time Exploring Echo Dell Indian Echo Caverns
Because it is in the country, Lancaster offers many options for nature enthusiasts. A truly unique experience is Echo Dell Indian Echo Caverns, one of the most visited attractions in the Eastern United States. The caverns are about 45 minutes from downtown Lancaster and well worth the drive.
These caverns were first inhabited hundreds of years ago, but the caves opened to tourists in 1929. Guided tours of the caverns are approximately 45 minutes long and well-lit, although unfortunately not handicap-accessible. This is an excellent destination for anyone who is interested in geology or enjoys exploring caves.
No matter the weather, the caves are always a cool 52 degrees, making them a great option on a hot day in Lancaster. This is also a fun spot to take kids who love exploring. Besides the exciting cave tours, they can join the fun on a gem mining expedition, play on the outdoor playground, or visit the petting zoo and meet all the animals.
Go For a Historic Lancaster Walking Tour
Those with inquisitive minds will enjoy visiting historic downtown Lancaster on foot. One of the best ways to do this is with Historic Lancaster Walking Tour, Corp., which will take you on a journey through time and along the city streets. Your experience begins at the Lancaster City Visitor Center in the center of town.
Experienced guides who know the history, architecture, and stories of Lancaster inside and out lead each tour. You will go on a relaxed walk of the town while your guide covers more than 250 years of history and takes you to 50 significant locations. The tours are designed to be inexpensive so that visitors from around the world can enjoy learning about Lancaster's interesting past.
After your walking tour, you can take in more history by paying a longer visit to some of the area's historic homes, including the Historic Rock Ford, Demuth Museum, or President James Buchanan's Wheatland.
Have an Outdoor Adventure at Refreshing Mountain
Outdoor adventures abound in Lancaster, with activities for families with young children as well as thrill-seeking older children and adults. To feel a rush of adrenaline and the wind in your hair, do not miss Refreshing Mountain. The five-star canopy tour will thrill you, the escape rooms will boggle your mind, and the wildlife experience will bring you closer to nature.
The zip line at Refreshing Mountain is open year-round, with multiple courses to choose from. Ages 5 and up are welcome to do this exhilarating activity, where you are strapped safely into a harness and fly through the forest canopy.
For a full day of activities, we recommend that you book the Fun 5 Pack. This is a great small group option that includes five of the park's activities in one package. Choose from zip lines, the obstacle course, pedal carts, the farm animal experience, and the reptile, amphibian, and birds of prey Wildlife Center.
Get a Family Game Going at Rocky Springs Entertainment Center
If your group has a competitive edge, head to Rocky Springs Entertainment Center, where you and the family can compete in a few rounds of bowling, laser tag, or other activities.
If bowling is your game, be sure to experience the Glow Bowling option, when the lanes are illuminated by neon lights and fun music plays for a full night of entertainment. Reserve a lane ahead of time to ensure you get playing time.
The laser tag adventure will have you running through an abandoned amusement-park-themed arena while dodging your opponents and challenging them for the highest score. This is a great active option for groups, families, and anyone over age 5. Finish your visit off with a meal at the on-site restaurant for a perfect day.
Enjoy Your Time in Lancaster
Some of Lancaster's activities sprawl along the nearby countryside, making it necessary to have a reliable car to get you from place to place. Before you plan an exciting trip to Lancaster or a weekend away from home, visit AutoOne of Lancaster. Get started by identifying the best kind of used car for you. Once you have found the perfect fit, you will be on the way to your next destination in Lancaster in no time.
We hope that this list has given you some ideas for your upcoming visit to Lancaster, Pennsylvania. Whether you are looking for action, outdoor activities, and competition or would prefer a quiet, authentic country experience, this town has plenty of options. Did we miss your favorite Dutch country experience? Let us know.