Gauranteed Credit Approval*
AutoOne is Lancaster's bad credit car dealership! Whether you've fallen behind on a few bills or have yet to establish a credit score, rest assured that AutoOne Lancaster is here to provide you with guaranteed auto credit approval*. If you've had difficulty getting approved for a car loan nearby and want to get guaranteed credit approval* in 30 minutes or less, head to our used car dealership in Lancaster, PA. You'll have the opportunity to choose the used Toyota SUV, Chevy truck or Honda car that you want to drive home in, as well as secure auto financing rates that fit your budget needs!
What Is a Bad Credit Car Loan?
A bad credit auto loan is used to help used car drivers purchase their next vehicle, regardless of their credit score or lack of credit history. Fill out a used car loan application online or simply stop by now to meet with any of our auto financial advisors. They'll sit down with you to review your car loan options, so you can drive home with low APR financing that you'll have a difficult time securing at other local dealerships.
How Do You Get a Car Loan with Bad Credit?
Our partnership with Credit Acceptance enables us to guarantee your credit approval in 30 minutes or less. Bad credit? No credit? It's no problem at AutoOne. Wondering if you're a good candidate for a bad credit loan? We offer approval to customers with the following:
Fixed income
Unemployment income
Multiple open autos on bureau
Multiple repossessions
Self-employment
Non-related co-signers
Bad credit
No credit (first-time buyer)
No minimum job or residence time
Temporary employment
Chapter 7 Bankruptcy
Chapter 13 Bankruptcy (with court/trustee approval)
We work around the clock to ensure you end up with monthly car payments you can comfortably afford, so if you have any questions about the bad credit loan application process, please don't hesitate to reach out. Plus, our inventory of used cars for sale is fully stocked with all your favorite makes and models, giving you more choices in your search for your next sedan, truck or SUV.
How Do You Get Approved for Car Loan With Bad Credit?
Everyone deserves a second chance, which is why we're thrilled to partner with Credit Acceptance. We offer guaranteed financial approval* for customers with any of the following:
Bad credit history
No credit history
Fixed income
Unemployment income
Multiple open auto loans
Multiple repossessions
Self-employed income
Temporary income
Bankruptcy Chapter 7
Bankruptcy Chapter 13 (with court/trustee approval)
Understanding Our Loan Approval Process
Our car loan process at AutoOne Lancaster is relatively simple and can be done in person or online. We provide online applications and let you apply for a loan at home, which typically speeds up the application process. When passing our minimum credit standards, you may get the loan within 24 hours. Our lending partners will check your credit history, examining multiple reports that give them a detailed understanding of your financial standing.
You can also apply for a loan with us in person. This involves sitting down with us and discussing our loan terms and payment processes. We'll review your car loan options, identify low APR financing options that may work for you, and provide the help that other local dealerships cannot. We're proud to work with Credit Acceptance, a team that helps us approve your credit in 30 minutes or less.
Thankfully, this means that you should know your options quickly and that we can start moving forward with you ASAP. Our team will help you fill out your loan approval paperwork, double-check for any legally binding information, date your loan, and sign it with you. We can then set up payment through cash, check, or credit card.
How a Bad Credit Loan Might Help You
Worried about bad credit? No problem. Our finance team is also always willing to work with those going through bad credit situations.Our bad credit loans help those with poor credit finance their vehicle purchases. We believe that everyone deserves a magnificent vehicle, regardless of their credit history. AutoOne Lancaster will work with you on a no- or bad-credit loan, even with teen drivers. Our team will identify the best loan for your teenager and ensure that they don't pay too much each month. Our team also works with many other situations that people may have, including:
Fixed income: People with a limited income, such as disability or Social Security checks, may work with us to identify a repayment cycle that works for them. This process often considers a person's opportunities to expand their income.
Low credit scores: Whether you have no credit or a poor credit score, our lending team will work with you to identify an option that makes sense for you. Once the loan is approved, your credit score increases, making this loan type a good option for those looking to work on their credit.
Bankruptcy: People who file for Chapter 7 or Chapter 13 bankruptcy may find their lending options limited. However, our lending team professionals will work with people who declared bankruptcy to help get them a new vehicle.
Repossessions: If you have multiple repossessions to your credit history, our bad credit loans may help you by rebuilding your credit trust and showing that you can be trusted with loans.
Other concerns: People with self-employment careers, temporary employment, or with a non-related co-signor may also need this type of loan from us. You may also get it if you lack the minimum job or residence time that our loan requires.
When going through this purchasing process, we may help you go through a credit refresh to check your overall credit score. This process may improve your approval chances and can also provide other benefits. Rest assured, no matter your circumstances, our lending team will give you the insights you need to pick a loan that suits your current financial state.
How a Credit Refresh May Help You
A credit refresh or soft credit pull is a credit check that doesn't affect your credit score, as a hard pull may. Instead, this process does a quick check on your credit score before you apply for a loan. When applying for a bad credit loan or any other car loan type with us, you may perform a credit refresh on your own with credit reporting companies or with your lender or dealer. Here are some reasons to do a quick credit refresh:
Confirms Your Credit Score: Credit scores may change from day to day, and a credit refresh confirms your score before you apply with us. As a result, you can anticipate what our lending will discover when helping you apply for credit.
Spots Potential Concerns: Doing a quick credit refresh can help you spot errors on your report, including inaccurate debt collections. Spotting and resolving these problems before applying with us may improve your credit and loan terms.
Helps Lenders Decide: When we do a credit refresh before working with you, you get a better idea of your credit health and can pick a lending option that makes sense for your current financial health.
Our team will walk you through this process to give you a better idea of your financial standing and what that means in terms of financing a vehicle. Typically, we can do a refresh before or during your visit and then provide detailed information about your report. Then, we can help you understand your lending options and ensure that you get the experience that you want.
And there you have it. We hope you now better understand our lending process and how it may help with your car purchase. Even when you have great credit, understanding this process is important and could dictate how your experience goes with us. When seeking financial help for your next vehicle, make sure that you talk to us atAutoOne Lancaster to learn more about your options. We'll discuss them with you and work to ensure you feel satisfied with your overall borrowing situation.
Visit Our Bad Credit Car Dealership in Lancaster Today!
As you can see, we've got your bad credit covered. So, if you're hesitant or uncertain about getting approved for a car loan - then don't wait. You know who to call—get in touch with our team at AutoOne Lancaster. We're proud to be Lancaster's used car dealership, and we want to make your credit approval process fast and simple as possible. That's what we do. Interested drivers in the area should get in touch with us. Visit our website, contact us, or come see us in person today! *Bank stipulations apply. See dealer for more information *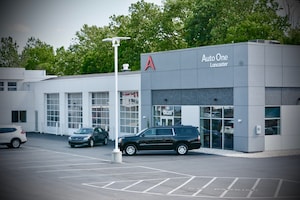 AutoOne Lancaster
Local Auto Finance Center Offering Auto Bad Credit Financing
Serving: Lancaster, PA & Reading, PA
Local Phone: (717) 295-9300
Directions to AutoOne Lancaster
1282 Manheim Pike, Lancaster, PA 17601