Whether you've fallen behind on a few bills or have yet to establish a credit score, rest assured that AutoOne Lancaster is here to provide you with guaranteed auto credit approval. If you've had difficulty getting approved for a car loan nearby and want to get guaranteed credit approval in 30 minutes or less, head to our used car dealership near Reading, PA. You'll have the opportunity to choose the used Toyota SUV, Chevy truck or Honda car that you want to drive home in, as well as secure auto financing rates that fit your budget needs!
What Is a Bad Credit Car Loan?
A bad credit auto loan is used to help Central Pennsylvania used car drivers purchase their next vehicle, regardless of their credit score or lack of credit history. Fill out a used car loan application online or simply stop by now to meet with any of our auto financial advisors. They'll sit down with you to review your car loan options, so you can drive home with low APR financing that you'll have a difficult time securing at other local dealerships. Our partnership with Credit Acceptance enables us to guarantee your credit approval in 30 minutes or less. Bad credit? No credit? It's no problem at AutoOne. Wondering if you're a good candidate for a bad credit loan? We offer approval to customers with the following:
Fixed income
Unemployment income
Multiple open autos on bureau
Multiple repossessions
Self-employment
Non-related co-signers
Bad credit
No credit (first-time buyer)
No minimum job or residence time
Temporary employment
Chapter 7 Bankruptcy
Chapter 13 Bankruptcy (with court/trustee approval)
We work around the clock to ensure you end up with monthly car payments you can comfortably afford, so if you have any questions about the bad credit loan application process, please don't hesitate to reach out. Plus, our inventory of used cars for sale is fully stocked with all your favorite makes and models, giving you more choices in your search for your next sedan, truck or SUV.
Everyone deserves a second chance, which is why we're thrilled to partner with Credit Acceptance. We offer guaranteed financial approval for customers with any of the following:
Bad credit history
No credit history
Fixed income
Unemployment income
Multiple open auto loans
Multiple repossessions
Self-employed income
Temporary income
Bankruptcy Chapter 7
Bankruptcy Chapter 13 (with court/trustee approval)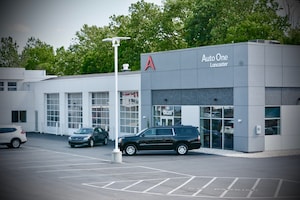 AutoOne Lancaster
Local Auto Finance Center Offering Auto Bad Credit Financing
Serving: Lancaster, PA & Reading, PA
Local Phone: (717) 295-9300
Directions to AutoOne Lancaster
1282 Manheim Pike, Lancaster, PA 17601