Your Bad Credit Car Dealer near Reading, PA
Getting a car can be difficult if you're still establishing your credit score or trying to get ahead financially. We offer guaranteed credit approval in 30 minutes or less, so stop by our used car dealership in the Reading, Pennsylvania, area to learn more. Browse through our selection of used vehicles to find the one that works best for your lifestyle, then chat with one of our financing specialists about choosing the best loan options for you.
What Is a Bad Credit Car Loan?
A bad credit car loan is a financing option that helps all buyers, regardless of their financial situation, get access to the transportation options they need. When you opt for a bad credit car loan, the options adjust based on your personal situation, giving you a customizable loan experience and a better chance of signing on to a loan that works for you. You can fill out one of our used car loan applications or stop by to meet with one of our financial advisors to learn more about the process and the best options for you.
Our specialists are highly skilled at creating a financing plan that works for you and helps you get car payments you can afford. We believe all drivers deserve a reliable vehicle for transportation, regardless of their credit history. If you have questions about the process or want to speak with one of our representatives, don't hesitate to contact us. If you're having a hard time finding a dealer who can help you with financing, keep in mind that, here at AutoOne, we offer financing approval to customers in many situations, including:
Those with poor credit.
Chapter 7 bankruptcy.
Chapter 13 bankruptcy.
Fixed income buyers.
Unemployed buyers.
Those with multiple repossessions.
Self-employed buyers.
AutoOne's Loan Approval Process
When you come to AutoOne for your car loan, we ensure a speedy and simple process. With access to our online application, you can fill out your information without meeting with us in person at the dealership, which can help you stay more comfortable during the transaction. Those who pass our minimum credit standards can receive their loan in as little as 24 hours after our lending partners review your information and reports to better understand your financial situation.
If you're more comfortable meeting with one of our qualified specialists at the dealership, stop by to sit down and discuss your loan options. We can talk face-to-face about your loan options and which interest rates may work best for you. When other dealerships turn you away for bad credit, we can meet with you and give you the support you need to finance a car and secure reliable transportation.
Because we work with Credit Acceptance, we can often approve online and in-person applications in less than half an hour. Whether you come in to meet with us or choose to complete the process at home, we can help you finish the paperwork and sign your loan documents. When determining your payment options, we are proud to supply a full variety of choices, including checks, credit cards, and cash.
Bad Credit Loans May Help You
Our team at AutoOne can help you perform a credit refresh to learn more about your overall credit score and standing. This may help you improve your chances for approval and allow us to provide you with additional perks like AutoPay and credit reporting. No matter your credit and financial situation, our team is dedicated to providing insights and helping you find the solution that's best for you.
If you have a poor credit score, getting a bad credit loan may help you finance your vehicle and potentially improve your score. By helping you find payment options that fit within your budget, you can make them on time and potentially improve your credit standing through the bad credit loan. We provide bad credit loans to clients in a broad variety of situations, including:
Bankruptcy: Individuals may file for Chapter 13 or 7 bankruptcy when it becomes necessary financially. Here at AutoOne, we understand there are many reasons for filing and strive to help you find the lending options that work best for you.
Employment: Those who are temporarily employed, self-employed, or who haven't worked at their current job for long enough may seek specific loans to help in their situation. We can help you find the financing you need to help you get behind the wheel of a reliable vehicle.
Fixed income: If you earn a fixed income like Social Security or disability, we can help you get a loan that allows you to pay for your vehicle.
Poor credit: You can get a bad credit loan to help you improve your credit score, which can help you gain access to more financing options in the future.
Repossession: Repossession happens when you don't make your payments on previous vehicle loans. We help those with multiple repossessions rebuild their credit and gain trust with car financing.
Ways a Credit Refresh May Help You
When you meet with our financing team, they may help you perform a credit refresh while discussing your options. A credit refresh is an opportunity to review your credit score and the information on your report, but it doesn't affect your credit score. This can help our team learn more about your credit and which lending options may be best for you without doing a hard inquiry. We can do a credit refresh to confirm your credit, identify potential issues on your report, and provide you with information about the best options for you.
We hope this information has been helpful for you during your bad credit loan search. If you're seeking financial support during the purchase process for your next vehicle, stop by to meet with our team of qualified professionals. Come in with poor credit concerns and leave behind the wheel of your next ride.
Shop Our Extensive Selection of Used Cars Near Reading, PA!
Click below and start shopping our large selection of used cars, trucks, and SUVs online! We carry a variety of all the most popular makes and models. And if we don't have it - we can get it. Being a part of Apple Automotive Group gives us access to hundreds of used vehicles, allowing us to really assist you in finding the vehicle you want. That's why there is always a great deal right around the corner at AutoOne. Get in contact with us and we'll be more than happy to help!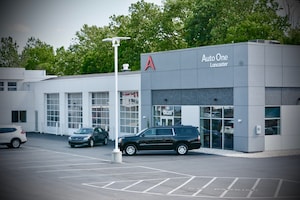 AutoOne Lancaster
Local Auto Finance Center Offering Auto Bad Credit Financing
Serving: Lancaster, PA & Reading, PA
Local Phone: (717) 295-9300
Directions to AutoOne Lancaster
1282 Manheim Pike, Lancaster, PA 17601